About Us - Phoenix History
Vic Yates, from the wartime Squadranaires band, was a Careers adviser in the West Sussex Education Authority, but with a difference. His first question was not the usual one about "what would you like to do when you leave school?", Vic would ask "do you play a musical instrument?" and the student was invariably recruited into his band.
Tony Skinner was the head of Adult Education and the Youth Wing of the Littlehampton School in the early 1970's.
Tony overflowed with enthusiasm and ambition to set up a school swing band to recreate the swing era in the dance and concert halls of southern England. Working alongside a musician with the pedigree of Vic, Tony saw his opportunity, The Vic Yates Band came to the Littlehampton School and grew and became The Littlehampton School Swing Band.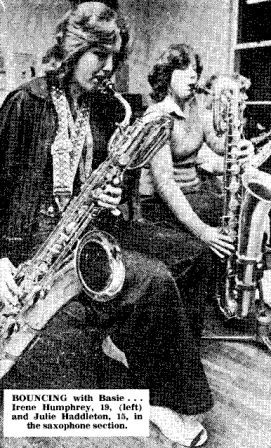 The band rehearsed on Thursday and at first played for school dances. As people outside the school heard the band, bookings were taken for various clubs and organisations. By the end of the 1970's the musicians were leaving school. The band was transferred to Adult Education and renamed The LCS Big Band (LCS = Littlehampton Community School).
When Vic retired a young versatile musician, Alastair Hume a teacher at Slindon College took over the baton, raised the band to a very high standard. Tony's enthusiasm went into overdrive and in 1985 we did 102 gigs in a year. How did we manage this? It seems impossible now to do so many gigs while holding down day jobs. It was a wonderful experience.
Alastair had developed the LCS into one of the most sought after bands on the South Coast before he moved on to the Royal Oman Symphony Orchestra, but we are delighted that Alastair still occasionally comes and plays Piano, Saxophone or takes the baton with his unique and infectious way of delighting audiences.
Duncan Mackrill became Musical Director and led the band to new heights including many concerts and dances and coming third in the final of the Boosey & Hawks TV Times Big Band contest having won the South of England heat.
We also sadly lost Tony Skinner who collapsed and died shortly before a rehearsal, his enthusiasm and devotion had inspired so many musicians to entertain and bring immense pleasure both within the band and our audiences.
Amongst our adventures was returning from a gig in Germany. Our coach having been turned away from two ports, we found a ferry that would take us home from Calais - a 1 hour crossing. However, mid channel an almighty storm blew up with waves taller than the ship. We were hit broadside, toppling the ferry but fortunately it righted itself and the Captain announced that we would have to heave to and ride the storm out. 8 Hours after leaving Calais we arrived in Dover, battered but not as battered as our coach, with the top sheared to a pulp, leaving us stranded in Dover for a few more hours whilst another coach was found to get us home. Miraculously we only lost one instrument.
Another gig where we were to play as the Citropolis Big Band to celebrate the 75th anniversary of Citroen cars, we were expecting a luxury coach and hotel. A maxi taxi collected us with one seat each, which were small as if it were used as a school bus. A trailer was towed for our instruments and equipment. A more uncomfortable ride could not be imagined for such a long journey, there was so little power that going up hill we could count the grass blades. Worse, we had a driver with attitude. Going down hill he would over take cutting up other vehicles only to slow them down to a crawl on the hills when they couldn't get past. He would compound his dreadful driving with rude gestures to other motorists and on arrival at Dover he was arrogant and rude to the other coach drivers, what an embarrassment.
Having got safely to Belgium we found our "Hotel", the rooms certainly had en-suite, balcony and television, but it was only two rooms for the whole band and our roadies with bunk beds so low that it was impossible to sit up in the bottom bunk.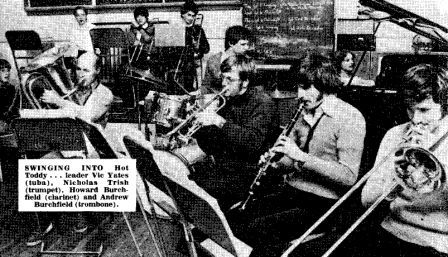 The gig was in a Marquee, but the heavens opened, rain collected and dripped through onto our equipment, However, it was a great success the audience loved the music and the dancing was a delight.
At the end of 1999, it very sadly came obvious that we were no longer welcome at the Littlehampton School and had to find a new home. Duncan also decided he would prefer to play trumpet.
New millennium, new start
We were very fortunate to find a warm welcome at the Victoria Institute in Arundel. A friendly club where we not only play music but those of us who are local enjoy socialising with a game of snooker, pool or darts, or listening to the other bands or watching plays, or just a quiet drink and chat.
Nick Trish became our Musical Director whose relaxed style is brilliant at encouraging and getting the best out of us.
We had to change our name and this was a very difficult process. Everyone was invited to make suggestions and these were then put to the vote of the 16 members we had at the time. 4 choices each had 4 votes. We tried changing the voting system so that all 4 names had to be listed 1 to 4 in order of preference. All 4 names still had a dead heat. In the end the only way we could separate the choices was by asking everyone to give each name a mark out of 10 and that is how The Phoenix Big Band scraped through to become our name
For the future the Phoenix Big Band will continue to entertain as we always have, our members come from all over Sussex and surrounding counties. Some have been in the band since the early 1970's other joined very recently. All come to Arundel alternate Thursdays for the love and enjoyment of making music and entertaining people, but also for the love of each other. The Phoenix Big Band is like family, we care and look out for each other, share in our joys and are there for one another when in trouble or need help. It is a real privilege to share so much with the wonderful people who make up the Phoenix Big Band
Nigel Searle : May 2005, (Chairman)


Page last updated: 12/12/2013